RP Davies will be coming home to Blackpool for his 14th professional fight where he tops the bill on a Neil Marsh dinner show at the Hilton Hotel on Friday 1st September.
Tickets are priced at: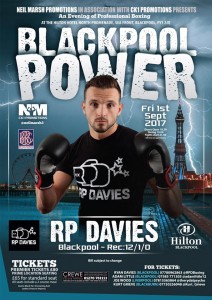 – £65 – including a 2 course meal
– £80 – VIP Tables
Doors open at 6:30pm, food is served at 7pm and the first bell is 9pm. The bill also features Joe Wood, Kurt Grieve and Adam Little.
Tickets are available from Davies Boxing Gym, by calling 07780962863, or by emailing info@rpdboxing.com
#TeamRPD