November is building up to be a hectic month for Fylde Coast boxers.
At least three of them will be in action, spearheaded by St Annes boxer Matty Askin taking on Tommy McCarthy in an eliminator for the British cruiserweight title. He will be joined on the bill at the Victoria Warehouse, Manchester by his stable-mate Jack Arnfield, of Stalmine, who is expected to be involved in a six-rounder.
Arnfield is currently on a high after annexing the World Boxing Council international middleweight title in Manchester when he beat Jack Ryder on points.
Blackpool's R P Davies, victorious at Bolton on Saturday, is also expected to be in action in November on a bill in Manchester.
Davies moved into double-figure victories at Bolton with a six round points success over Duane Green, of Norwich. Reflecting on the win, super-welterweight Davies said he was now ready to kick on.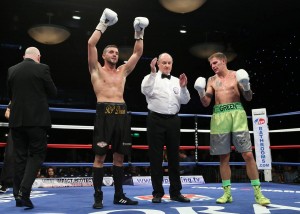 He said: "It was a tough six rounds; I thought I boxed well for four and the last two became a bit more physical, more of a dog-fight."
"I believe I have the ability to stop people; a lot of the lads on my record don't get stopped."
"If they do it is very few and far between, but I think stoppages will come."
"I am fighting very experienced lads and they know how to survive in there."
"I hit Green with some good shots and I think I stunned him a few times, but he knew what to do and he was clever."
"In the last two rounds I just thought I could have closed the show a little bit sharper."
Davies, who expects to be on a show at the Bowlers complex in Manchester in November, says that he intends making 2017 the year when he makes the big breakthrough.
He said: "Hopefully next year is my big push. A lot of these lads I am boxing are a lot better than their records suggest."
"I will be more up for the big fights; they will excite me and make me a better fighter."
Source: http://www.blackpoolgazette.co.uk/sport/boxing/busy-month-in-store-for-fylde-boxers-1-8198576